Some Words about TAEGUTEC
TaeguTec worldwide is a leading partner for modern international tooling and solutions. Headquartered in Daegu, South Korea. TaeguTec is a part of the Iscar Metalworking Companies.
TaeguTec India was established in the year 2000, with the philosophy of being its customer's partner in cost reduction. TaeguTec manufactures comprehensive range of tooling from the new state-of-the-art factory located at Bangalore. Within a short span TaeguTec was certified as per ISO9001: 2000 thereby reiterating the commitment to quality. A well-trained and motivated team of young engineers manage each function in the factory. TaeguTec has a wide reach in the Indian market with eight branches across the country and presence of Stockist's in every major industrial town.
Service to the customer is backed by the support of a dynamic and competent team of sales and technical support engineers. Year 2012 marks the 12th year of successful operation in India. In order to sustain our efforts of being its customer's partner in cost reduction, TaeguTec brings more and more new products into the market. Each one of these products has tremendous potential to increase productivity and reduce the cost per component.
Drill Rush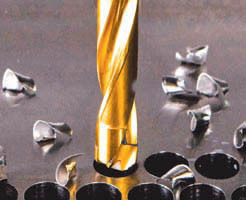 Improves performance
Excellent chip evacuation
Chip evacuation is improved
Clamping mechanism with special key
Differently sized head diameters can be coupled
 TT9080: New grade with multiple layer structure
Mill Rush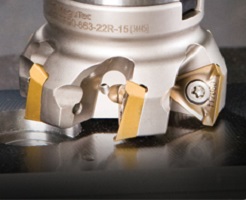 Internal coolant supply
Relief for ramp-down application
Wiper for superb surface finish quality
Helical cutting edge for 90 degree cutting
Super high positive axial rake for low cutting force
Thick & unique geometry for high strength cutting
Mill Rush 2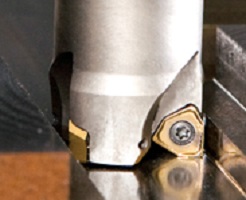 Internal coolant supply
Helical cutting edge for 90 degree cutting
Wider wiper flat gives the best surface finish
Thick & unique geometry for high strength cutting
Double sided 6 Corner insert with helical geometry
Peripheral ground type for high precision machining
Quad Rush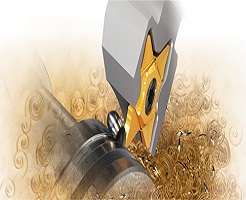 Pocket protects unused edges from chips
Better surface quality and extended tool life
Insert indexing from both sides of the holder
Accurate positioning of insert when indexing
If edges are broken any remaining edge can be used
Excellent chip control and high quality surface finish
Turn Rush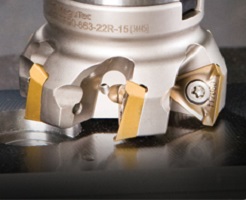 Double sided insert
Hook lever clamping system
Unique insert and shim profile
Low cutting forces and an optimized chipbreaker
3 dimensional geometry that is exchangeable with the ISO standard holder
Chase 2 Mold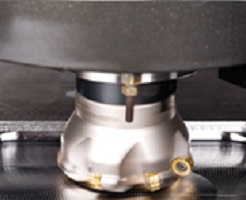 Unique double-sided round inserts
Free cutting geometry for all materials
Unique insert and cutter pocket structure
When machining with a long overhang cutter, it is recommended that the shred type insert is used to reduce the cutting load.