Condensate treatment technology
ECO DRAIN condensate drains
Technical specifications
Series: ECO DRAIN
for compressor capacities : up to 1700 m³/min
ECO DRAIN condensate drains ensure safe, reliable condensate drainage without air loss, even under conditions with widely fluctuating accumulation and high particle / oil content.

The industry standard
Quality, dependability and safe operation are essential features of any industrial machinery or equipment. The Eco drain meets all of these requirements. Versions are available to suit even the most hostile operating conditions, for example: highly aggressive condensate, freezing temperatures, high pressure or vacuum.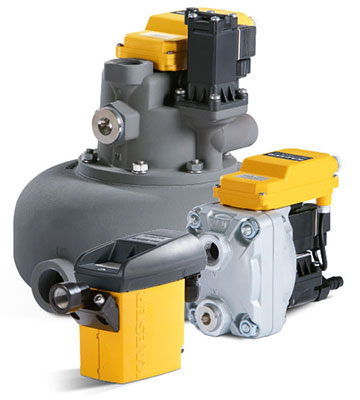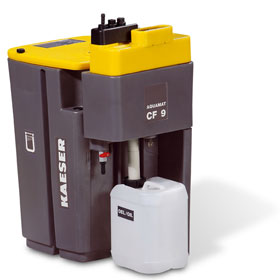 Condensate treatment system AQUAMAT
Technical specifications
AQUAMAT Series
For compressor capacities up to 100 m³/min
The AQUAMAT system enables the compressor user to carry out in-house condensate treatment and thereby greatly reduce the overall cost of condensate waste treatment and disposal. Condensate treatment with the KAESER AQUAMAT system saves up to 90% of the disposal costs that would be required for a specialist company to dispose of the condensate.
Tested and certified condensate treatment
Tested and certified by the Berlin Institute for Design and Technology, the AQUAMAT system provides state-of-the-art condensate treatment. This not only assures outstanding system performance coupled with significantly reduced waste treatment costs, but also provides considerable benefits for the environment.
Air-main charging systems DHS
Technical specifications
Air-main charging systems are important
Air-main charging systems are essential for any application that requires a reliable source of consistent quality compressed air. They eliminate the sudden surge of compressed air that occurs when compressors are restarted after a period of downtime and therefore safeguard optimum performance of air treatment equipment.
Two operating modes
Depending on the priority and configuration of the compressed air station, operators of electronic DHS air-main charging systems can choose from two operating modes: Operating Mode I ensures reliable compressed air quality for stations with multiple treatment packages. whilst Operating Mode II ensures reliable compressed air supply following restart of systems equipped with a single treatment package.
Newly developed control unit
The heart of each DHS air-main charging system is the electronic control unit. It has been redesigned from the ground up and has been optimised both electronically and pneumatically to fulfil its demanding tasks. The pressure sensor, display and control algorithm (based on pulse width modulation) are designed to communicate with master control systems. The pressure measurement sensor integrated in the DHS enables unprecedented compressed air system integration.
DHS speaks your language
Kaeser DHS systems are designed with maximum user-friendliness and dependability in mind. Every DHS can be intuitively adapted to all applications via the display – in 25 languages. The system also allows at-a-glance operation status checks and makes the saving of parameters simple.