Internal Compressor Controller Sigma Control 2
Integrated intelligence: The next dimension
The control centre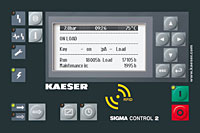 The control unit features an easy to read display and durable input keys. All relevant information can be viewed at a glance. User friendliness is further enhanced by the logical menu structure and the ability to display data in any one of 30 selectable languages.
For your security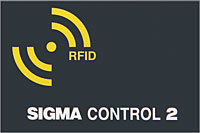 The addition of RFID functionality to the Sigma Control 2 means that service work and system changes to the compressor can be performed only by authorised personnel, e.g. suitably qualified KAESER service partners. Manufacturer-provided passwords are not required.
Stay connected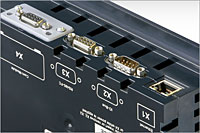 The Ethernet interface (10/100 MBbit/sec) allows users to directly call-up operational parameters on a connected PC network via the integrated web server. Optional communications modules support Modbus-RTU, Modbus/ TCP, Profibus DP-VO, Device-Net and Profi-Net IO.
Update and save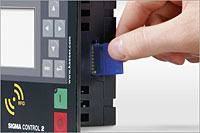 Software updates and operational parameters can be quickly uploaded and transferred via the convenient SD card slot. This both minimises service costs and allows the SD card to be used for (long-term) storage of key operational data.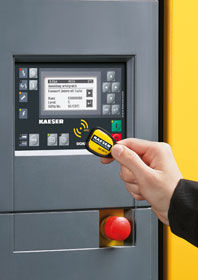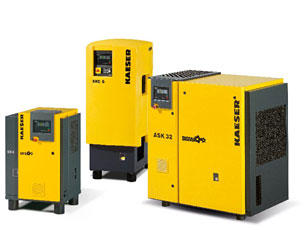 SIGMA CONTROL BASIC
Technical Specifications
SXC, SX, SM, SK & ASK series
It is the perfect solution for users who initially require a single compressor for their air supply, but who also may wish to expand the compressed air system in the future. Furthermore, KAESER's modular control and compressed air management concept ensures troublefree system compatibility.
SIGMA CONTROL BASIC – Functions
Adjustable service intervals, pressure and temperature unit selection (bar/ psi/ MPa, °C/°F)
Quick and simple operation with clear icons and large display
Fully automatic DUAL control (full load/ idle/ on/off control)
Counter for service, load and operation hours
Monitoring of air network pressure parameters, airend temperature and direction of rotor rotation
Nominal system pressure can be adjusted separately
Group alarm volts-free contact
Electronic pressure transducer
Master controller: SIGMA AIR MANAGER 2
Industry 4.0 – Intelligent maintenance and efficiency management
The SIGMA AIR MANAGER 2 compressed air management system monitors and controls all components within the compressed air supply system with a view achieving maximum cost savings.
The SAM 2, the next generation master compressed air management system, uses the adaptive 3-Dadvanced control to make compressed air production and treatment not only faster, but also more efficient and reliable.
Improved pressure values and automatic matching of delivery according to fluctuating demand
Continuous fine-tuning of system performance to ensure optimised energy efficiency
Predictive maintenance by Kaeser specialists prevents unplanned downtime
Advantages
Smart:
The SAM 2 not only records switching losses, but also gathers information regarding all dimensions that affect your compressed air station. Using this data, the SAM 2 then calculates the perfect parameters for optimum performance and controls all connected components accordingly.
Secure:
Together with the powerful Ethernet-based KAESER SIGMA NETWORK, the SAM 2 forms a future-proof infrastructure that meets all requirements for a highly secure industrial control system.
Efficient:
Continuous fine adjustment with a view to achieving optimum energy efficiency (energy management in accordance with ISO 50001) and the option of predictive, demand-oriented maintenance keep life cycle costs to an absolute minimum.