KRYOSEC Refrigeration Dryers
Technical Specifcations
TAH – TCH series
Flow rate: 0.35 to 4.50 m³/min
Exceptionally reliable and ultra compact
KRYOSEC refrigeration dryers typify renowned 'Made in Germany' quality. They provide dependable drying in ambient temperatures up to +50 °C and ensure high efficiency performance through their low maintenance design and the minimal pressure loss heat exchanger system. With their compact footprint they are exceptionally versatile and are ideal for locations where space is at a premium.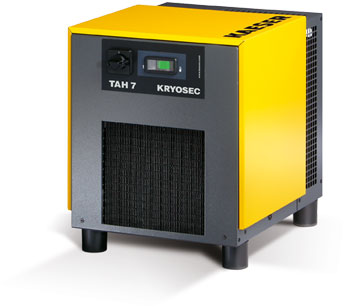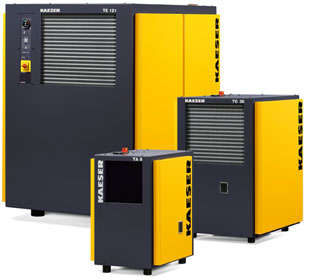 SECOTEC Refrigeration Dryers
Technical Specifications
TA to TE series
Air flow rate: 0.6 to 14.3 m³/min
SECOTEC refrigeration dryers reliably remove the moisture from compressed air while minimising energy consumption. They feature premium quality components to ensure a long and dependable service life. The cycling control enables significant energy savings.
Made in Germany: All SECOTEC refrigeration dryers are built in accordance with the very highest quality standards at KAESER's plant in Gera.
As with all KAESER products, SECOTEC dryers are designed and built for maximum reliability. The broad range of available models makes it possible to install the most suitable dryer for virtually any application.
TF series SECOTEC Refrigeration Dryers
Technical Specifications
TF series
Air flow rate: 17.0 to 34.0 m³/min
The next generation: Even more efficient compressed air drying
SECOTEC – that's the name of KAESER's renowned industrial quality refrigeration dryers that have long been valued for their stable pressure dew point performance, their exceptional dependability and their low total life-cycle costs. Together with the innovative SECOPACK LS latent heat storage heat exchanger system and the SIGMA CONTROL SMART controller, the next generation of these advanced dryers sets new standards when it comes to energy efficiency, compact design and user-friendliness.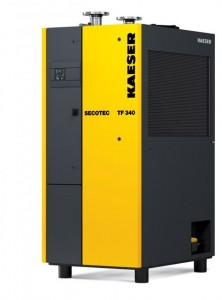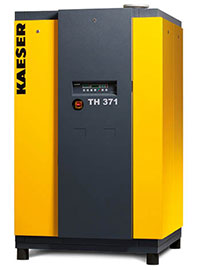 TH–TI Series Refrigeration Dryers
Technical Specifications
TH – TI Series
Air flow: 37.5 to 90 m³/min
Savings all day, every day
Energy-saving dryers from Kaeser Kompressoren enable significant savings all day, every day. For example, at 40 % airflow they consume only 43 % of their nominal energy requirement. This saves several thousand Euros in energy costs compared with conventional dryers.
"High Pressure" Refrigeration Dryers
Technical Specifications
THP series
Flow rate 0.8 to 106.18 m³/min
Dependable performance even at high ambient temperatures
The quality of a refrigeration dryer is best judged by how effectively and reliably it can separate condensate, particularly at high ambient temperatures. With this in mind, the developers at KAESER Kompressoren created the THP refrigeration dryer series. Featuring highly efficient refrigeration circuits, these dryers are designed for optimum performance. The air circulating system for the corrosion resistant stainless steel plate heat exchanger further illustrates this, as it is made from stainless steel and copper piping. The key aim of any refrigeration dryer is to provide reliable condensate separation, which is why KAESER uses a separate stainless steel condensate separator. The flow-optimised piping also ensures minimal pressure differential. KAESER refrigeration dryers combine all of these features to ensure exceptional air treatment in accordance with EN 60204-1, which means dependable, sustained pressure dew point performance of +3°C even at high ambient temperatures up to +43°C.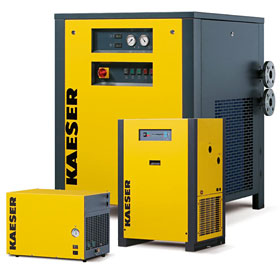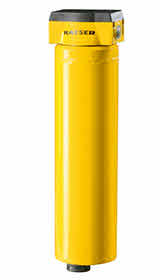 Membrane Dryers
Technical Specifications
KMM Series
Inlet flow volume up to 4.400 m³/min
Exceptional dependability
The new KMM dryer design provides many advantages over conventional membrane dryer models, as the 'Inflow' concept ensures outstanding drying results through highly effective moisture removal, enhanced pressure stability and reduced differential pressure. Furthermore, in combination with KAESER compressed air filters, the design also provides protection from any contamination that may enter the dryer, as it is trapped before it can reach the sensitive membrane fibres.
Heatless Desiccant Dryers
Technical Specifications
Series DC
Flow capacity 0.15 to 154.53 m³/min
Dependable Drying Power up to -70 °C
Meticulous design and quality ensure that KAESER DC Series desiccant dryers operate efficiently to provide dependable low-pressure dew point performance at continuous load, even under the toughest of conditions. The outstanding drying results are aided by generous quantities of KAESER's high quality 'SIGMA Dry' desiccant, as only a fraction of the material's initial load is used. Consequently, this means that minimal quantities of purge air are required for desiccant regeneration, even after longer than average periods of operation. In addition, long cycle periods reduce the number of flow optimised components required for reliable, integrated performance, such as KAESER's pre- and after-filters.
Made from activated aluminium oxide, the desiccant has an exceptionally high adsorption capacity and its regeneration capability provides sustained low-pressure dew point performance with minimal pressure loss. The desiccant is also waterproof and mechanically stable, which makes it particularly suitable for long periods of operation. Furthermore, specific pellet sizes are available to ensure optimal performance of flow diffusers and sieve plates.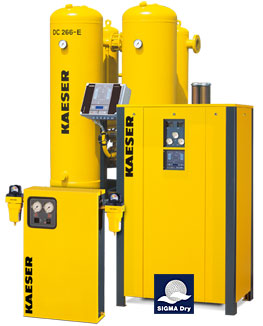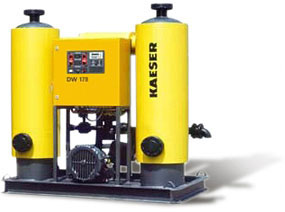 Heat Regenerated Desiccant Dryers
Technical Specifications
Series: DN/DW
Flow rate: 4.7 to 194.2 m³/min
Pressure dewpoint: down to -40 °C
Compressed air dried to dewpoints as low as -40°C is often needed as process air, for frost-prone areas or in sensitive industries such as electronics, foodstuffs, pharmaceuticals and brewing. Such high degrees of moisture removal are achieved by KAESER's series DN/DW desiccant dryers. The intelligent system design of heat-regenerated desiccant dryers ensures that virtually no compressed air is lost as a result of regeneration and aftercooling. The desiccant is regenerated with externally heated blown air.
HYBRITEC Combination Dryers
Technical Specifications
Serie DT
Flow rate 12 to 150 m³/min
In a Class of its Own
HYBRITEC compressed air dryers combine the energy-saving functionality of modern refrigeration dryers with the exceptionally low pressure dew point of desiccant dryers – a truly "cool combination" in these times of increasing energy costs.